Customized Linear lights in pakistan
Light up your Dreams with Linear Lights.
From Clothing brands, Branded Footwear, Ceramic, Food Chains, Offices, Hospitals, Schools and to the Retails Stores the demand of Linear light is every where. Due to the flexibility of linear lighting the products are used in a wide and increasing variety of applications. These lights are highly customisable & can be build as per the required shape by the client.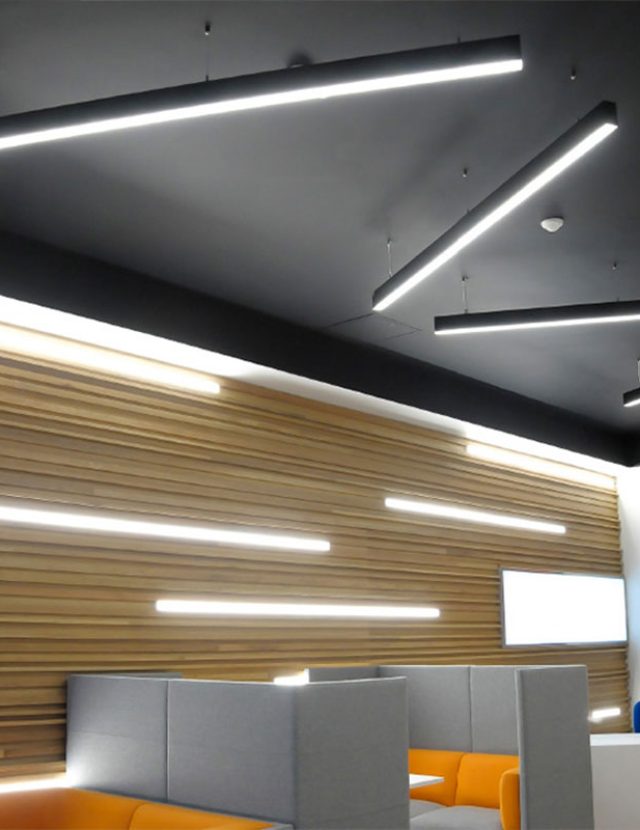 The Linear lighting theme can be designed on black, white & silver profile with multiple  angles & shapes & with suspended, recessed & surface mounted options.
Linear lighting can be mounted into almost any ceiling type. You can get surface mounted, suspended, recessed and grid ceiling mounted. Some linear lighting products offer a range of connecting shapes in corner L shapes or T and cross junctions
Track lighting is a modern, innovative and especially versatile lighting solution, and when we say solution we mean it. The flexibility in the quantity of lighting you can install is immense. The tracks join together so you can select the amount of lights you need. Track lighting puts you in control and lets you get creative with the distribution of light and the quality it can add to your interior design.
Downlights are installed into the ceiling (mounted on or recessed) concentrating the light in a downward direction, whilst a spotlight is fixed onto a wall or ceiling and can provide multiple light beams, allowing you to direct light directly onto a place or object.
LED Strip Lights, also known as LED Tape Lights, are small linear lights on a roll that you probably have seen in a lot of places but never really noticed. Each strip consists of an array of various sizes of LED chips which are soldered to a flexible printed circuit board. The backside of the PC board is applied a double sided adhesive for mounting to clean and dry surfaces. These strips can literally be used in hundreds of different places and are easily hidden to create appealing and attractive lighting in the tightest of spaces. Each strip light can be cut and re-connected to create customized linear accent, task, and exterior lighting. Our strip lights are offered in a wide range of brightness (lumens), colors (kelvin) as well as color changing options.
LED high bay lights are specialized industrial lights designed to illuminate large areas with high ceilings. These high bay LED lights create powerful illumination at a long-range to enhance the visibility and focus light more directly than traditional incandescent fixtures. This makes high bay LED lighting perfect for commercial and industrial applications, such as warehouses and retail stores with larger areas and taller ceilings.
Flood lights are great lighting fixtures that emit a broad beam of light. As the name suggests, flood lights are used to flood an area with light. It is the best way to provide an enormous amount of non-natural light to an area.
LED floodlights are highly energy efficient and have a higher lumen per watt output than any other conventional lighting system. They are used for many purposes and also allow a range of lighting techniques.
Pendant lights have quickly replaced the traditional chandeliers in homes across the world. These hanging lamps can be installed in a variety of different ways, such as being hung solo, featured in a cluster or suspended in a row at varying heights.
These are the most common types of pendant light designs one can install in their house:
⦁ Bowl Pendant Lights
⦁ Dome Pendants Lights
⦁ Cylindrical Pendants Lights
⦁ Linear Pendants Lights
⦁ Abstract Pendants Lights
⦁ Multi-light or Cluster Pendants 
⦁ Mini Pendants Lights
⦁ TPL Tower
⦁ Artistic Milliner
⦁ Beechtree
⦁ Huawei Regional Office Islamabad
⦁ Imam Clinic
⦁ Agha Khan Hospital
⦁ Midas Safety