Details
Translucent, 0.040 in (1.0 mm) thick tape is designed for difficult sealing applications
Sticks on contact to many metals, plastics and other hard-to-stick-to surfaces
Provides immediate seal with no wait time or oozing associated with liquid sealants
Tough, yet flexible clear ionomer backing is abrasion resistant and instantly paintable
Acrylic adhesive provides excellent sealing qualities and good outdoor durability
Our 3M™ Extreme Sealing Tape 4411N is a translucent, highly conformable, single-sided, pressure sensitive acrylic adhesive tape with a high performance ionomer backing. It is an ideal solution for creating a water tight seal. It conforms over fasteners, seams, joints, holes and gaps to ensure a long-lasting seal on a variety of substrates.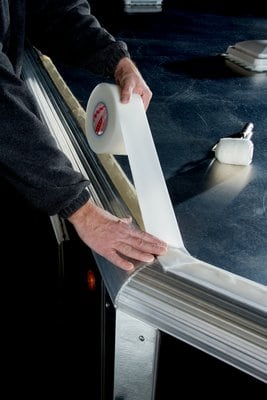 The most common application of 3M™ Extreme Sealing Tape is trailer roof sealing
Protect, Seal, and Paint with Confidence
3M™ Extreme Sealing Tape 4411N is a translucent, 0.040 in (1.0 mm) thick tape featuring a flexible backing that easily conforms over screw heads, rivets, joints, splices, and other protrusions to provide protection from water intrusion. The durable, abrasion resistant backing makes this tape a good choice for outdoor applications were exposure to weather is a concern. Since it can be painted, you can match most existing colors to blend seamlessly into the surrounding area while retaining the water-tight bond.
The soft, yet thick acrylic adhesive adheres immediately, allowing for quick application and eliminating unnecessary downtime. This adhesive not only bonds instantly to a variety of substrates, but it adheres well to itself in order to maintain a consistent seal while creating overlapping joints. A backside liner ensures easy handling and application of the tape.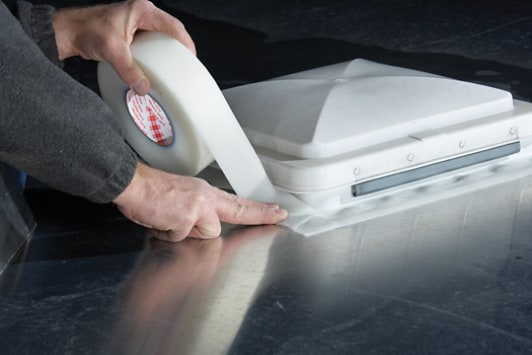 3M™ Extreme Sealing Tape provides an immediate seal with no wait time or oozing associated with liquid sealants
Recommended Applications
Truck and trailer roof sealing
Window and door sealing
HVAC
Joints and seams
Gutters
Bringing Better Ideas to the Surface through Science and Innovation
In our 3M Industrial Adhesives and Tapes Division, we apply the science of adhesion to deliver innovative solutions that improve the design and manufacturing processes of companies around the world. In the end, our technologies help customers like you deliver competitive products to the market faster and more efficiently.
Resources
Data Sheets