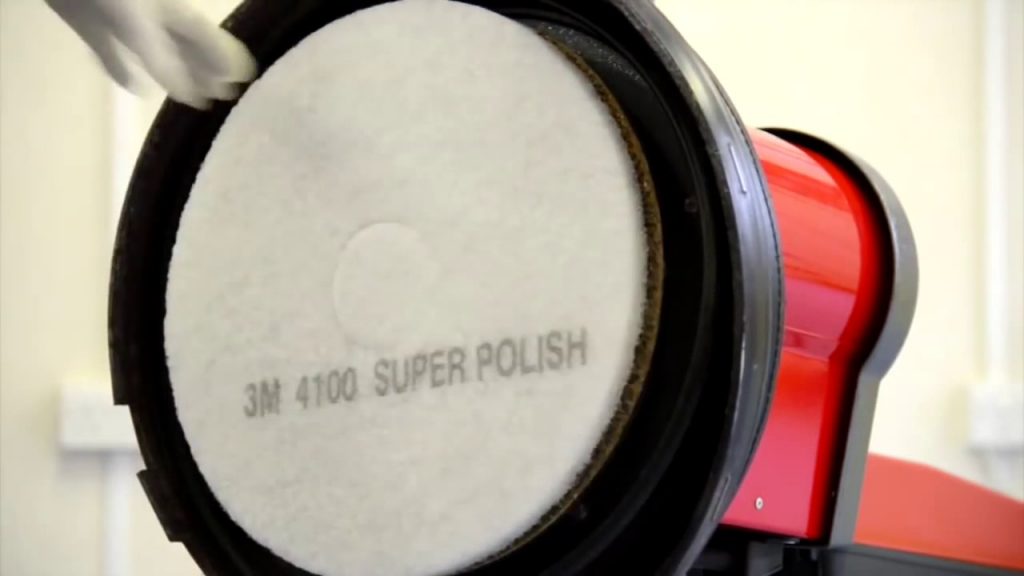 3M™ White Super Polish Pad 4100 is a floor maintenance buffing pad made of polyester fiber in an open textured, non-woven construction. Polishing particles are dispersed throughout and bonded to the non-woven construction with a durable resin system that permeates the entire pad.
Unique design and durable construction make these pads the industry standard for consistent performance and long life.
Designed to be used for spray cleaning or dry buffing of hard surface floors
For use on standard, low speed automatic scrubbers and rotary floor machines (175 – 600 rpm)
Applications
This product is used for spray cleaning or dry buffing under a rotary floor machine. It is also used for light scrubbing using water or detergent solution under standard, low speed automatic scrubbers
For use on finish-coated flooring such as sheet vinyl, vinyl tile, marble, terrazzo or concrete.
Features and Benefits
Uniform coating throughout every 3M™ floor pad reduces the number of knots and clumps, which eliminates scratching of floors while providing greater consistency and extended pad life.
Pads are reversible and will not be significantly affected by water, detergents, or cleaners normally used for floor maintenance.
Exacting standards for quality mean thickness uniformity from edge to edge and pad to pad are exceptional, resulting in consistent performance without pad wobble or machine vibration. The precise center-hole placement and roundness of the pads also contributes to the smooth operation which extends pad life and may help reduce operator fatigue.
Specifications
| | |
| --- | --- |
| Abrasive Type | Mineral |
| Application | Buffing, Burnishing, Cleaning, Polishing |
| Brand | 3M™ |
| Center Hole | No, Yes |
| Center Hole Diameter (Imperial) | 3.228 in, 3.375 in |
| Center Hole Diameter (Metric) | 8.5 cm, 82 mm |
| Color Family | White |
| Equipment Type | Rotary Sander |
| Machine Speed | 175-600 RPM |
| Material | Non-woven Polyester Fiber |
| National Stock Number | 7910013769829, 7910014394468, 7910014483393 |
| Overall Diameter (Imperial) | 10 in, 11 in, 12 in, 13 in, 14 in, 15 in, 16 in, 17.008 in, 18 in, 19 in, 20 in, 21 in, 24 in, 27 in |
| Overall Diameter (Metric) | 254 mm, 280 mm, 305 mm, 330 mm, 380 mm, 406 mm, 432 mm, 460 mm, 480 mm, 508 mm, 530 mm, 610 mm, 686 mm |
| Overall Height (Metric) | 85 mm |
| Overall Length (Imperial) | 14 in, 18 in |
| Overall Length (Metric) | 356 mm, 457 mm |
| Overall Thickness (Imperial) | 1 in |
| Overall Thickness (Metric) | 2.54 cm, 25.4 mm |
| Overall Width (Imperial) | 12 in, 13 in, 24 in, 28 in, 32 in |
| Overall Width (Metric) | 305 mm, 330 mm, 610 mm, 711 mm, 813 mm |
| Product Color | White |
| Product Type | Buffing Pads |
| Quantity | 10/case, 20/case, 5/case |
| Recommended Application | Buffing, Polishing |
| Shape | Rectangular, Round |
| Size (Imperial) | 18 in x 12 in x 1 in, 12 in x 18 in, 28 in x 14 in, 32 in x 14 in |
| Size (Metric) | 305 mm x 457 mm, 711 mm x 356 mm, 813 mm x 356 mm |